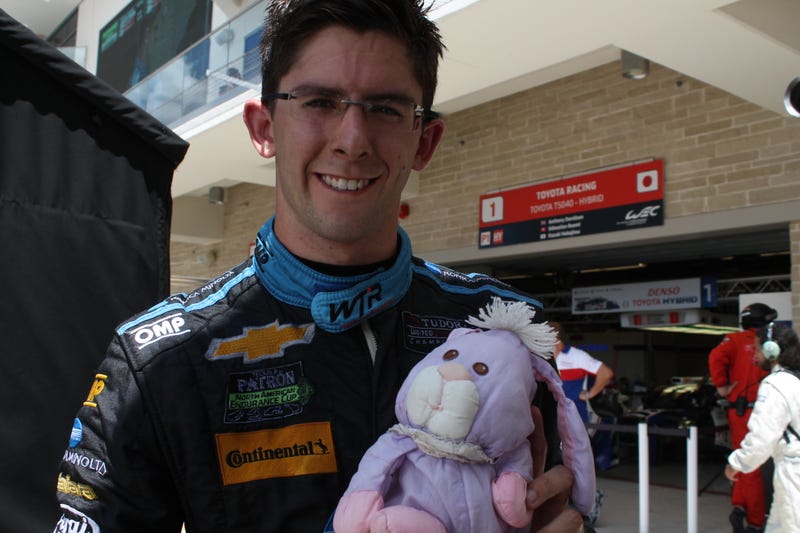 Everyone knows Jordan Taylor has a huge heart for fluffy friends, so when I spotted him pop out of the car at Lone Star Le Mans, I handed Fluffy Bunny over for a brief photo op. Surprisingly, Jordon let Bunny do the #JTfacial this time, and was caught by the TV broadcast to prove it!
The end of the 24 Hours of Le Mans was so stressful for Jordan Taylor that he hid in the bathroom for the end of the race. His Corvette Racing team was chasing AF Corse's #51 Ferrari in GTE Pro until #51 had to come in for a half-hour's worth of repairs, at which point, it was Corvette's race to lose.

Turns out, the Wayne Taylor Racing team actually did go over the maximum time allowed for team member Jordan Taylor to drive in the last hours of the Rolex 24 at Daytona. IMSA announced today that they will move WTR to last place in the Prototype class results for the violation.
Jordan Taylor's got a little bit of a flat-top going now that he no longer has The Mullet, and what better way to commemorate that than to go over the sweet, sweet 'tunes of the nineties? This is what happens when you let the Wayne Taylor Racing boys loose in a used car lot.
Jordan Taylor is probably the most famous American racing driver who doesn't consistently drive in circles, and that's because he's freakin' hilarious. And now he's here, with his splendiferous mullet, to talk to you.http://jalopnik.com/greatest-mulle…
Have you ever wondered what it's like to take one of the fastest race cars in America on to one of America's greatest tracks? Wonder no more thanks to our friends at /DRIVE, who bring you this bonkers helmet-camera video of Jordan Taylor testing at Watkins Glen.
Without further adieu, I give you Grand-AM Champion Jordan Taylor's music video for the '90s R&B hit The Right Kind Of Love. It's amazing. At one point he basically has sex with a tire.
Jordan Taylor, fresh off his podium finish at the 24 Hours Of Le Mans with Corvette Racing is chopping of his splendiferous mullet for charity. While I'm sure everyone will be sad to see that beautiful masterpiece go, at least it's for a noble cause.
I suppose you could say that here at Jalopnik we're Jordan Taylor fans. He not only runs a hilarious Twitter account, he's also blindingly fast, seeing as how he was last year's Grand-Am champion in the Daytona Prototype class. But I'm more a fan of his mullet.