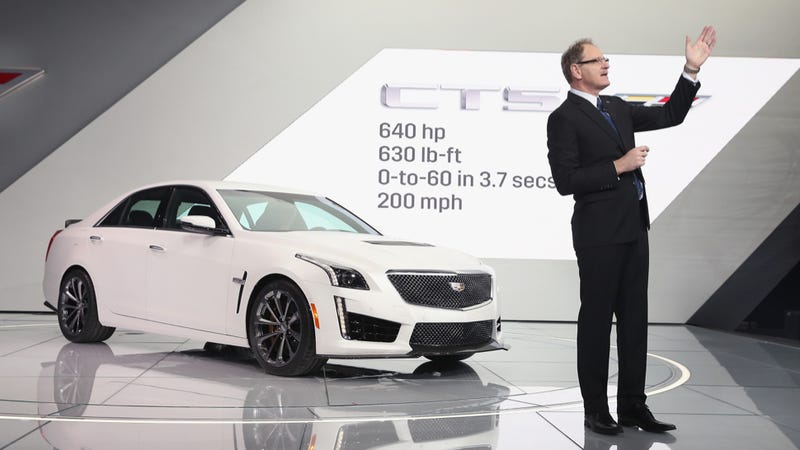 Yesterday, Cadillac President Johan de Nysschen stopped by for a fantastic live Q&A session. The problem is, he got far more questions than he had time to answer in just an hour. So he's answered some more, and just told us that Cadillac will debut an entirely new family of V6 engines next month. Whoa.
The entry-level luxury market has been completely flooded with itty bitty Teutons as of late, from the Audi A3 to the Mercedes-Benz CLA to the BMW 2-series. And that's a problem for Cadillac, because they want to win the luxury war, and they're haven't been fighting that battle. Yet. And that's going to change.
Johan de Nysschen's day job is running Cadillac. But in his off time, he revels in trolling his former executive compatriots. And his latest social media missive questions whether Infiniti's upper management has the balls to release the 560-HP Q50 Eau Rouge.
The current Cadillac lineup is full of cars that are every bit as great as the Germans they compete against, if not better in some cases. Their problem is that they're priced at the same level too, and buyers haven't seen them that way. Will that change under Johan De Nysschen, the CEO Cadillac poached from Infiniti?
We woke up to the news of a fairly major shakeup in the luxury car world this morning as Johan De Nysschen, the CEO of Infiniti and chief architect of its attempted turnaround, has announced he is leaving the company. And the word on the street is he's talking about joining Cadillac. (Update: Sources say it's…
This is The Morning Shift, our one-stop daily roundup of all the auto news that's actually important — all in one place at 9:00 AM. Or, you could spend all day waiting for other sites to parse it out to you one story at a time. Isn't your time more important?
Yesterday, Lawrence Ulrich of MSN Autos reported Audi US President Johan de Nysschen called Chevy Volt buyers "idiots." Today, de Nysschen is trying to distance himself from those comments through his Facebook page. Yes, Facebook.
"Nobody will pay a $15,000 premium for a car competing with a Corolla," said Audi of America President Johan de Nysschen. "There are not enough idiots who will buy it." Really? Put your money where your mouth is, Johan.