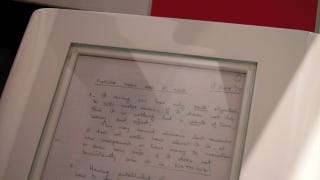 To see the most interesting document at the Frankfurt Motor Show, one had to get a particular stool at Lotus then not sit down on it. Beneath a layer of glass was a page from Colin Chapman's notebook from the summer of 1975 which contains many of his iconic quotes about Formula One cars. Some are simple, some are…
When men were men and race cars looked like cars, men and women were dying on Grand Prix weekends like flies. The early history of Formula One is a horror of burning flesh, and a new one-hour BBC documentary puts the easy nostalgia for the early days in a sad new perspective.
With the paintjob of its glory days in the '60s, a team with the name Lotus is back in Formula One.
Inching ever closer to his first ever Grand Prix victory, Red Bull's Mark Webber spent his free weekend between the British and the German Grands Prix at a motorcycle race. We got inside his head.
A dozen men have walked on the Moon—and twelve Brits have won the British GP since first held in 1950 at Silverstone. Meet the men whose shoulders Jenson Button is set to stand on this Sunday.
In 2007, Royal Mail issued a set of stamps commemorating Britain's Formula One greats. With six slots for eight world champions and Sir Stirling Moss, the stage was set for a philatelic battle royale.
In 1961, after witnessing Jack Brabham's 9th-place finish in the Indy 500 in a mid-engined Cooper, Dan Gurney hooked up Colin Chapman and the Ford Motor Company to build a car for the '63 Indy 500 that would truly change the face of American open-wheel motorsports. But it was hardly a cakewalk. While Gurney felt it…
What if you could get Alberto Ascari, Ayrton Senna, Jim Clark and Bruce McLaren 'round the table for a sit-down on the current state of Formula 1? A guy by the name of Parminio did just that on an unofficial McLaren fan site. Mindful that with the exception of the safety of modern F1 cars, the racing seemed to be so…