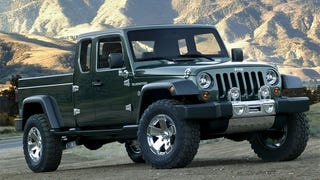 Chrysler's finally confirmed they're building the Jeep pickup, or something like it, with Chrysler CEO Sergio Marchionne just telling reporters "I said [yes] to a multipurpose vehicle out of Jeep with something that they call a truck bed." [PickupTrucks.com]
Jeep hasn't built a pickup since the Comanche, but the chatter indicates Jeep CEO Mike Manley is open to the idea. Ahem, Nukizer. [PickupTrucks]
Which would you rather own — the AEV J8 Jeep-Truck or the Hummer H3T? Browse our down-n-dirty gallery of the two together to help you decide.
The only thing that got more gawks than the gals manning the booths was the front suspension on this WARN-equipped
AEV
-conversioned Wrangler. And why shouldn't it? We hear the suspension's a multi-thousand-dollar kit from . Don't worry, we'll grab some more pics later today.