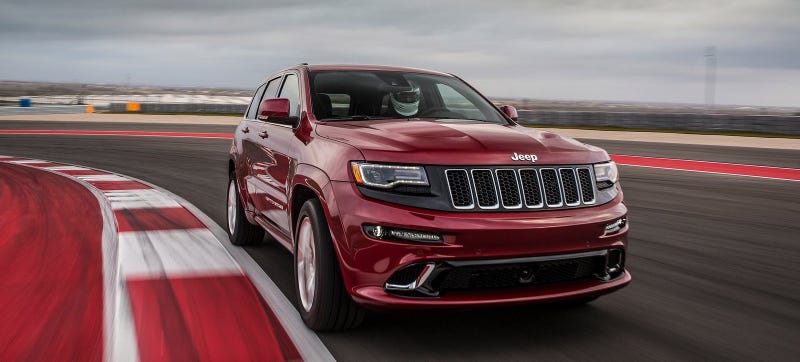 RIP, Chrysler's Street and Racing Technology brand. We hardly knew ye. Thankfully, Ralph Gilles' band of merry madmen will live on as part of the Dodge brand. But where does that leave non-Dodge SRT cars like the Jeep Grand Cherokee SRT? Dead. And not dead.
What happens when a bunch of journalists spend the day at the track, wearing the tread off the tires of a fast Jeep? They get worn down some more.
Ok, so here's the thing. The new Grand Cherokee SRT8 kicks ass. It eats racetrack tarmac in Joey Chestnutt-sized bites, then spits chunks in your face while it's giving you the drill sergeant treatment for not trusting it to carry more speed in the corners than you did. You're as useful as a football bat, you maggot.…
This is the Jeep SRT8 the brother of newly-anointed Fiat Chairman John Elkann drove to today's press conference where his 34-year-old brother's new job was announced. The bumper sticker reads "Italian Motherfucker." Is every Italian-American trying out for Jersey Shore?
Thanksgiving's tomorrow and we here at Jalopnik are thankful for a lot of things. Family, friends and good food all hit high up on that list. But there's two things that top the list and the first is you. Yes, that's right, you. Not to get overly sentimental, because that's not how we roll, but we're thankful you keep…
Based on spy photos the Detroit News appears to have received from a reader, Jeep's hot-rod mid-size SUV may soon be able to pull your boat. According to their report, the 2009 Jeep Grand Cherokee SRT8 has been spotted with the dual center-mounted exhaust outlets moved to one-per-side, and the test mule was seen…