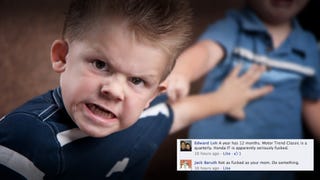 After Motor Trend's Jonny Lieberman found himself the victim of a savage Facebook LOLing by professional automotive internet troll Jack Baruth, newly-annointed Motor Trend editor-in-chief Edward Loh jumped to his beleaguered number two's defense. It's not pretty.
Want to write about cars? Love British magazines like Evo and Autocar? Jack Baruth at Speed:Sport:Life recently took a look inside the world of one of the most glamorous positions... in the world. Here's how you get in. —Ed.
With the news that Corvettes have finally entered LeMons, the floodgates are likely to open for other semi-exotic hardware. The 'Vette was probably legit, but cheaters have almost certainly won LeMons before. What would you try?
A dose of reality for would-be racers: "Racing an old VW Golf or Honda Civic once a month costs as much as buying a Nissan GT-R or Porsche Cayman S on a five-year loan." [Speed:Sport:Life]
We're not saying we don't like the Mazda Rotary, but it's hard to say anything bad about an RX-7 that can spin the tires in fourth gear. Jack Baruth, aka ViergangFuchs, ran across this 543-horse beast when he stopped by Matt "Tinman" Johnston's shop to pick up his new NASA Neon ACR (the previous one having been…
Jack Baruth over at the many-coloned Speed:Sport:Life, which brought us the F430 v. GT500 v. Elise v. Caliber challenge, is at it again with a tirade against those who eschew FWD and brightly-colored cars from the land of Bruce. Baruth is the proud owner of both a vintage Porsche Lime Green Audi S5, which is as bright…
Since today's PCH has us in a Mustang/Camaro frame of mind, it's time to see a few that actually, you know, run. Turn up your speakers, because you're going to want to share this with everyone in the office. No, really. Crank 'em up all the way! What we have here is 24 Hours of LeMons Flat Rock winner ViergangFuchs,…