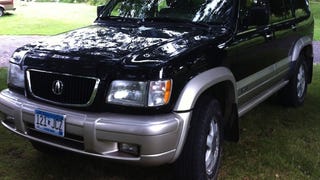 Back when your mom was a total Betty the Platters reached number one on both the R&B and pop charts with The Great Pretender, a song about feigning not to care about a spurned love. Today's Nice Price or Crack Pipe SLX is a Trooper pretending it's an Acura, but will you spurn its five thousand dollar price? Ooh-ooh.
He was hardly a boy but Joe Isuzu, the star of this cautionary vintage advertisement, loved fooling the townspeople by "crying wolf" about his Isuzu Trooper being stuck in the mud or not having the capacity to carry a load of logs.
They didn't know exactly what to call it or precisely how to market it, but this vintage advertisement suggests Isuzu had at least one specific purpose in mind for the Trooper—escaping the equally confused local police.
Since owners are fleeing their SUVs like rats from a sinking ship, it seems like a great time to put together a list of the top used SUV bargains. Luckily, Popular Mechanics has put together just such a list. After all, some people out there actually need a purposeful wagon to take them off-road or help them haul a…