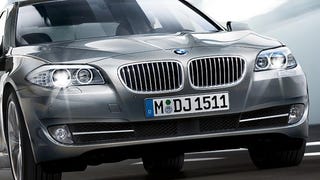 The 2011 BMW 3 Series will be facelifted, not overhauled, but amid the usual upgrades will be something we're excited about: a more potent Sub-M3 iS sport model similar to the Z4 sDrive35is.
On February 27, 2006, Saab unveiled an ethanol-powered grand tourer concept which suddenly, dramatically and finally gave new meaning to that trampled and misused slogan — Born From Jets.
With the Lexus IS convertible, most of the work for a hardtop coupe's already been done. That got us to asking Lexus if one's in the pipeline. The answer isn't a "No."
If you have a Lexus IS Convertible or GS and still want to look like you're driving a Lexus, but not the Lexus IS-F, you'll soon be able to upgrade with official "F-Sport" parts.
After investing time and money into developing a new vehicle to meet consumer's needs you'd think that coming up with a name would be the easy part. Whether because of mistranslation, cultural misunderstandings or just plain mistakes, these names prove it's not as easy as you'd think. Culled from our automotive…
One of the posters at Club Lexus managed to get their hands on a scan from some unknown German magazine with a shot of what is purported to be a Lexus IS convertible in light camouflage. The claimed horsepower numbers range from 177 to 423 horsepower, which covers the IS from the entry-level diesel (in Europe) to the …
Maybe it's the hot sun from the long weekend, but we're hearing all sorts of rumors of convertible action coming from the land of the rising sun. The folks at the line that's always on the inside over at Edmunds are claiming Nissan's looking at green-lighting an Altima convertible to roll against the Toyota Solara and…
With R, S, M, SS, TRD and AMG already taken by other automakers' performance divisions (and RSTLNE the sole property of "Wheel of Fortune"), Lexus's choice of letters for its upcoming in-house tuner models was already limited. According to AutoWeek, they simply went with F for "fast." The first model to wear the new…
Sure, in our bicoastal and midwestern locales, we can get fried octopus balls (no, they're just fashioned into balls, dopey), but we can only get a couple of Japanese car magazines. Thus, we look to the Japan-living ex pats at Nihon Car and Bike for updates on the J-buff-book scene. This time, they give us the latest…
Lexus has already faked out the spy community, through which word of a V8 powered Lexus IS spread like Influenza A virus subtype H5N1. Through them, we'd heard the so-called IS 500 would debut at the '06 Detroit show, which came and went without word one that such a car was in the pipeline. Now, the spooks have…
Toyota's issuing a worldwide APB for 57,000 Lexus GS and IS models built between July and December of 2005 due to a seat-belt winder that may not allow passengers to buckle their restraints. Approximately 29,000 of the cars were sold in North America. See, even Toyota screws up!
Edmunds Inside Line is reporting that Lexus is going after Germany's M-, S- and AMG-powered sharpshooters in the sport sedan category with a new eight-gun of its own. The company is preparing to unveil a close-to-production IS concept powered by a 5.0-liter V8 producing 450hp, which could spawn a new IS 500. That…