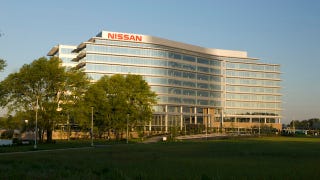 The U.S. Internal Revenue Service suspects Nissan North American may have used Bermuda to wrongly shelter some income from U.S. taxes. The agency won a federal court order last week forcing Nissan to surrender paperwork on contracts worth $45.9 million.
Alvin Joiner, a.k.a. Xzibit, a.k.a. recursive Internet meme guy, owes nearly $1 million in delinquent federal taxes. His excuse for not paying them? The cancellation of Pimp My Ride. Seriously.
Despite reportedly receiving an auto bailout-sized bag of cash to leave Toyota for Chrysler, the Freep's reporting out-going Chrysler Deputy CEO Jim "Droopy Dog" Press now owes the U.S. government nearly $1 million in back taxes.
We're there again, that part of the year when the bony finger of Uncle Sam slips its way into your wallet and takes what it deems to be a fair share of your hard earned money. That's right, it's tax season. That time honored tradition of putting everything off until the last minute then filing as close to midnight…
Now that the tax incentives to on the Toyota Prius have run out, the new king of the road for deductions are the hybrid offerings from Ford — the Hybrid Ford Escape and Hybrid Mercury Mariner two wheel drive. The taxman will be giving buyers of the twin hybrids up to $3,000 in deductions in an effort to offset the…
I hate to do this, but I'll be that guy. It's time to start thinking about tax season, but fear not you deducting beasts, the IRS's 2008 standard mileage rates have been announced and all of those miles you spend on the road for work this year will be getting a significant bump to 50.5 cents per mile. This means that…