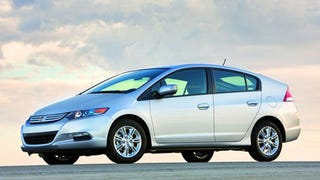 The all-new 2010 Honda Insight is now the cheapest new hybrid in the US, with a starting price of $19,800 before $670 destination, license, registration and smug tax.
Like the green credentials and low price of the Honda Insight, but wish it had more fake chrome and add-on LCD screens? Well, if you're from a shower-averse European nation, you're in luck.
Official press photos of the new European market Honda Insight made their way onto the web today a wee bit earlier than Honda wanted. But, all that means is we've got a full gallery below.
Honda's readying its production Insight for worldwide debut at the Detroit Auto Show two weeks from now, but we've got scans of what looks to be the sporty Modulo version for you now.
The 2010 Honda Insight has been revealed in production form today with only a few differences like normal tires and the front fascia losing some of the high-cost chrome the Insight was sporting in concept mode. Honda's new Prius-killer is expected to retail for around $18,500, massively undercutting the $22,000 Toyota…
Details on the instrument panel and driver assist systems on the new
2010 Honda Insight
have been released and it seems Honda is intent on training the new hybrid's drivers in much the same way other auto manufacturers have announced. The "Ecological Drive Assist System" uses a combination of color cues in the…