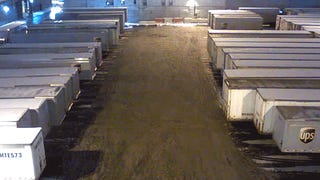 We're at the peak of the busiest delivery season of the year. To prove how mad it is, Animal New York recorded this insane 24-hour time-lapse of a UPS parking lot packed with truck trailers behind its office in Hell's Kitchen—"Due to space constraints, this plays out like an real life game of Tetris."
Perhaps not wanting to be left out of the good times being displayed by their Argentinean counterparts, someone just uploaded a compilation video of US Air Force pilots purportedly in Afghanistan and Iraq trying some close shaves of their own. DUCK!
Nicknamed the "Black Devil of Moscow", this Russian madman weaves and wheelies his Yamaha R1 through Russian traffic at a pace that is hard to believe. We hope the Black Devil remains a continent away from our daily commute. [EnglishRussia]
There are no speed limits on most of the roads within the Isle of Man, which is something to think of when watching this video.
We received an email from a friend in which they claimed to have just seen the "craziest video ever on the Internet." Now, forgive us for being skeptical, but that's an extraordinarily bold statement. The Internet is a big place and almost designed from the get-go as an outlet for the wacky and bizarre, once it…