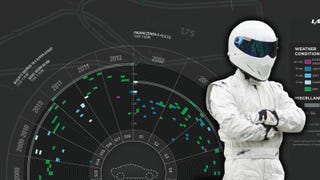 Are you a Top Gear fan? Probably. Have you been spending the last few weekends making a huge chart of Stig-driven lap times of cars around the Top Gear track? If so, then wad up that glitter-covered, elbow macaroni-encrusted, crayon-smeared piece of crap. The nice folks at Boost Labs have made you the definitive Top…
Apple is one of the three most valuable companies in the world and is sitting on a pile of around $100,000,000,000 ($100 Billion). Execs at Apple are about to announce what they're going to spend all that money on. Ahead of that — we thought we'd try to provide a little context for just how much scratch that really is.
The folks at Ask Your Target Market (AYTM) put together the following infographic based on their survey of 2000 U.S. adult Internet users who own or lease a car, SUV or pickup truck. The results are both interesting and revealing about the brands we, as Americans, drive — and what we think about them.
This beautiful BBC image isn't a photo taken from the space station. It's actually a composite showing the location of 2,396,750 road crashes in Great Britain from 1999 to 2010. Each light point is an individual collision which resulted in a casualty. The intensity of brightness shows where collisions are more…
The latest infoporn from Hunch.com delves into the site's proprietary user data system to uncover the characteristics of people who can drive cars with a stick shift vs. those who can't.
Fancy yourself a Landie lover? Here's the full family tree from 1945 to 2009. Just move the LRX from "concept" over to production and it's as current as you can get. Click through to embiggen the intricately-detailed image. [via LandRover]
Hey, America! Get off the phone! Get off the phone! Get off the phone! Thank you. That is all. [Big Oak Studios via IGS]
This map shows the distribution of oil rigs and pipelines as compared to the growth of the Gulf of Mexico oil spill. Red dots are drilling platforms, black lines are pipelines. Anyone else a little freaked out? [ESRI via Infrastructurist]