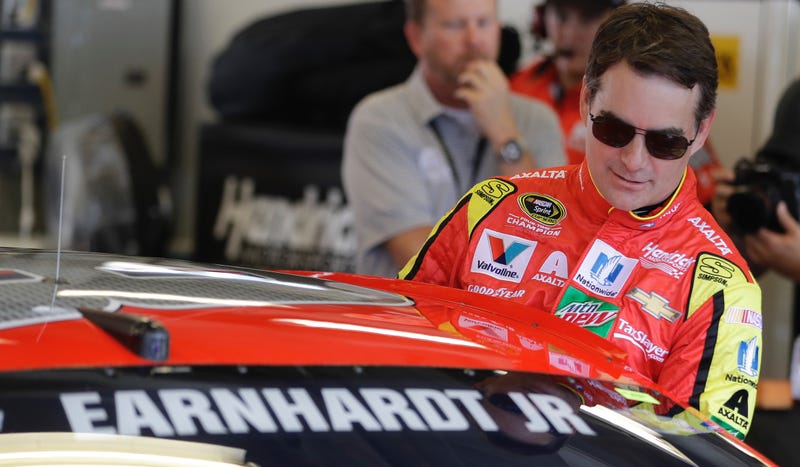 If the name on the windshield didn't make it obvious, this is not the car Jeff Gordon originally signed up to drive this weekend. According to ESPN, Gordon was going to drive the pace car until he got an opportunity to jump back into the race itself by filling in for his former teammate Dale Earnhardt Jr.

Did you miss Jeff Gordon's farewell tour last year before he retired from driving in NASCAR? Well Sunday, Sunday, Sunday!!!, July 24, you may get your chance to see Fox Sports' star commentator back the car. Either way, he better deliver the goods on his in-car commentary, given his new post-retirement gig.

Google Maps continues its search to document every last bit of our private and public lives, now extending its all-seeing eye to the very bowl of the Indianapolis 500. Nowhere is safe, not even inside the Brickyard.
A movie about the first Indianapolis 500, written by the man behind Hoosiers and Rudy, might begin filming this year in Indiana. Will it suck? Just pray for no Stallone. [Indy Star via Hemmings]
Where's Waldo IndyCar driver Alex Tagliani? Ha! I win! He's right there! Wait, what? I don't win? How could I not win? Fail, people. A-Tag would not approve. [FailBlog]
Controversial Indianapolis Motor Speedway board member Tony George has been ousted from the track's board, largely composed of his sisters, after spending $600 million over 13 years. That's so much his sisters were worried they'd run out of money.
As much as we like open wheel racing and modern car designs, there's something far more awesome about vintage racing cars. This is undoubtedly the opinion of one Jim Rogacki, an engineer from Buffalo, who, while digging around for vintage car parts, managed to run into an amateur Indianapolis 500 historian. After…
Think back to August, 1909. You just caught a clown act at the Hippodrome, went for a boysenberry phosphate at Spunk's Unguents and Ointments and nearly got flattened by a runaway fish cart. Meanwhile, in Indianapolis, a motorcycle race just became the first motorized event at the new speedway. Ninety-nine years…
If you're one of the three-to-five Americans who still care about the United States Grand Prix after last year's tire debacle, here's one more reason not to: if for some reason the event doesn't go on as scheduled, you're out your ticket money, Ponce de Leon. That's right, no friendly Michelin refunding your scrill,…
Along with Hustler, Time, early Details, Kerrang!, Mad and Gearhead, Car and Driver stands as one of the magazines that not only influenced our worldview, but our writing as well. Goring sacred cows is fun, but the fact remains that C/D is #1 for a reason. The writing is consisently top-notch, they give credit where…