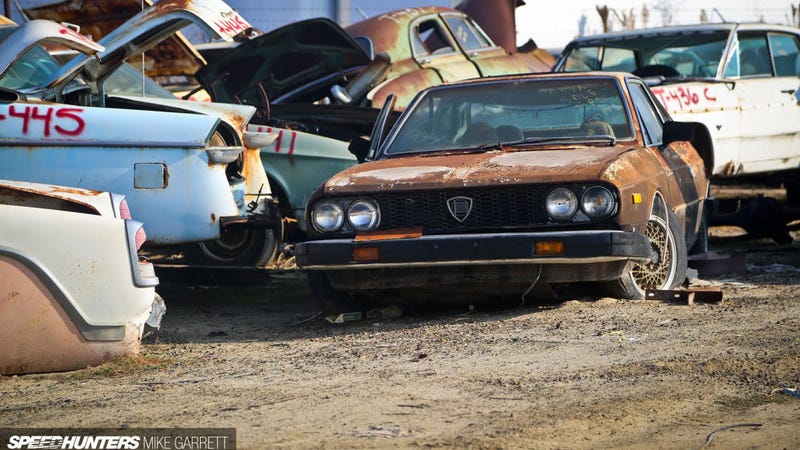 Mike Garret from Speedhunters went to an American junkyard filled with rare imports, only to find too many great classic roadsters and coupes left to rot forever.
The Dukes of Hazzard was set in the Deep South. Today's Nice Price or Crack Pipe Datsun Sunny is from the Deep-Deep South - as in Australia - and you'll need to decide if the price for this odd homage is southern comforting.
Only old Axis buddies like Germany and Japan could shape this kind of cross-cultural moment; an annual fair for Japanese sports-car fans in Deutschland dubbed "Reisbrennen" — literally, "rice burning." Hot cars transcend any language.
Every import photo shoot looks roughly the same: slammed cars, asphalt, sunsets and twiggy high-heeled models dressed up like slutty disco Na'vi. Wait, what!?! Photo Credit: William Ho
Mr. Levine over at PickupTruck.com has been busy today, further hashing out the details we saw this morning on the new reverse outsourced Mahindra Appalachian. It seems the mid-sized pickup will be assembled right in Ohio to avoid the dreaded 25% chicken tax and will be getting an interior designed and built for the…
Finally, Mercedes is beginning to admit that the "not-minivan" that is the R-Class may not be living up to forecasted expectations. Sales are apparently flagging even after the Stuttgart boys added a row and chopped the price down. Deiter thinks it's the overcrowded crossover segment. We think it's something else.[…
What would you say to the option of the tiny but tossable Volkswagen Polo making it's way to the shores of the United States? If you're like us, you'd be more excited in an R32 model, but still it's interesting. Volkswagen CEO Martin Winterkorn admitted that the possibilty is out there with the dry but corporate…