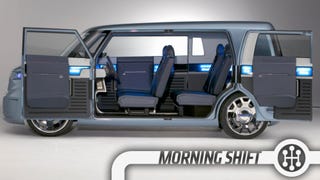 This is The Morning Shift, our one-stop daily roundup of all the auto news that's actually important — all in one place at 9:00 AM. Or, you could spend all day waiting for other sites to parse it out to you one story at a time. Isn't your time more important?
Steve Jobs is dead, which means that we can say whatever we want about him in speculative articles that smash together everyone's favorite highly searched subjects like they were mixin's at Marble Slab and wrap them up in a waffle cone made of bullshit fancy.
Apple is once again proving they're still the company Steve Jobs built. After years of saying "meh" to working with automakers on tighter integration of Apple products into automotive infotainment systems, there's evidence Apple is now hiring people to build a system for them that'll work with all their devices.
Only 21% responding to a recent survey claim they would buy an Apple electric car. 48% would buy one from BMW. Good. Apple shouldn't design an electric car. They should design the interior of one.
According to German news site Presseportal, talks between the German automaker for the people and the computer cum consumer electronics giant are on hold for a potential "iCar." Full blurb from the press site below the jump. Oh, and did we mention it's entirely in German? Anyone want to translate for us? All we…