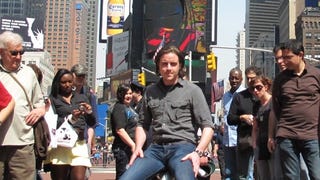 Japanese engineers thought that allowing Matt Lauer to ride the Honda U3-X on the Today Show this morning was "too risky," but I sweet-talked them into letting me roll through Times Square on it. Cybernetic unicycle, meet New York.
Viewing the Honda U3-X wheelie stool in the relatively sane environment of Jalopnik makes it hard to conceive a potential use for the device. Maybe this Japanese TV show puts things in better context.
The Honda U3-X, the automaker's new personal mobility device, is a boom box-looking one-person unicycle-like scooter for office use, home mobility and travel on sidewalks without interfering with walkers, as seen in the awkward video and gallery below.