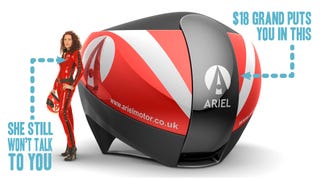 If you have that magic combination of wealth, lots of open space in your home, a non-existent or very understanding partner, and maybe a touch of agoraphobia, today's a great day. Ariel, makers of the skeletal Ariel Atom and simulator maker Motion Simulation have joined forces to produce what is likely the finest…
The massive tornado that ripped through downtown Tuscaloosa, Alabama last night was captured in HD by a local news station's webcam. The devastation is obvious as the massive storm rips through the heart of the city, killing at least 36 and injuring hundreds.
Pickuptrucks.com's 2010 Heavy-Duty Shootout has dropped and it's their biggest comparo ever: nine heavy duty trucks, 3402-hp, 5845 lb-ft of torque, and copious truck abuse. We pitched in and got our first look at the impressive GMC Sierra Denali HD.
Just as we go and declare the 2011 Ford Super Duty the best heavy-duty pickup on the market, GM comes along and crushes Ford's power figures. The new Chevy Silverado HD diesel makes a staggering 765lb-ft of torque and 397HP.
We warned you about it. We gave you plenty of advance notice. And now it's finally here. Our full 2009 Sno*Drift Rally film. Be afraid, be very afraid, because Jalopnik don't do no lilly-livered video.
The guys at Pickuptrucks.com have snagged some shots of a 2010 GMC Sierra HD pickup in dually chassis-cab configuration. The most obvious change is in the grille area, where a honeycomb three-bar motif dominates, but overall the refresh is pretty minor. Rumors of a more-powerful Duramax available under the hood,…
Because their customers really want to listen to Wait, Wait Don't Tell Me in High Definition Hybrid Digital, Volvo is going to make HD standard and almost every model. And if you think we're joking about that, we'd note they made the announcement in Boston. The list includes S40 T5, V50 T5, C30, C70, S80, V70, SC70…

Much ado is being made about the "flash" of the HD versions of Chevrolet and GMC's newest haulers during the press event earlier this week announcing the new GMT-900 based Chevy Silverado and GMC Sierra. Truth be told, we were too busy ogling some of the co-eds working for the event company to spend much time…
The quiet war between satellite radio and HD radio — which allows providers to offer digital radio signals and (information channels) along the same airwaves as analog AM/FM radio — appears to be amping up. With most of the battles being won of late by the big satellite providers, Sirius and XM, HD-radio software…