GM bondholders wont swap debt for stock, bankruptcy looms [DetroitNews]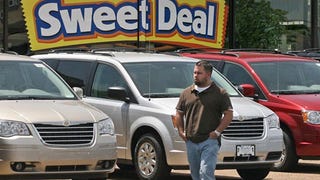 Ken Czubay, head of Ford's U.S. sales and marketing, today noted along with ambitious product strategy they're "going to aggressively market new products," because "we still have some very competitive Asian and European competitors." He's right, Ford's posted big conquest sales on the backs of their American rivals.
In early April, GM registered the domain name GMRestructuring.com, the same URL naming schema as Chrysler's bankruptcy informational site ChryslerRestructuring.com, well ahead of their scheduled expected bankruptcy at the end of this month.
In an interview today, Steven Rattner, lead advisor for President Obama's Auto Task Force, gave the first public statement about the group's mission when he said "bankruptcy is not our goal" for GM and Chrysler.
Nikkei hits 26-year low on GM concerns. [MSNBC]
GM to offer two choices: Bankruptcy or more aid. [WSJ]
The CEOs of the not-so-Big Three made it to DC for committee hearings beginning today at 10:00 AM. According to Bloomberg's sources, GM and Chrysler execs are considering a pre-arranged bankruptcy (which we've already said is a good thing) as a last-resort of getting a multibillion-dollar government loan.
The red rubber bull-biting bald man by the name of Jim Cramer had a mouthful to say about the Motor City today — making clear his belief that if Motown gets showed D.C.'s checkbook, then we've seen the lows of this financial downturn. I tend to agree. Right now, according to Cramer, the issue isn't anymore whether you…