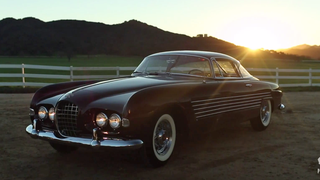 Ghia only built two Cadillac Coupes based on the '53 chassis, and the amazing Petersen Museum happens to own one of them. It doesn't get more L.A. than this.
The Datsun ads were fun, as were the Toyota ads, but it was Volkswagen that first made an art form out of the automotive television advertisement.
Billetproof wasn't the only Detroit-area car show this weekend, we also popped over to Ypsilanti's Orphan Car Show, where we found the only car to make an appearance at both shows — Wilt Chamberlain's 1967 Ghia.
As the first day with Chrysler in bankruptcy dawns, let's look at a mad car from an era when the automaker was set to conquer the very skies: the jet-powered Gilda coupé.

October is generally the warmest month here by the Bay, so that's when you get the big car shows on the island. On Saturday, Park Street was taken over by hundreds of chromium-dipped chariots; the following day, a horde of Ferraris, Fiats, Lancias, Alfas, and the like swarmed across the bridges and set up shop on the…
If you're looking for a fast Italian machine from the 60s, you've got your Ferraris and Maseratis and such, and even your Intermeccanicas. Don't stop with those cars, though, because Ghia didn't just do coachwork for other manufacturers- they made a few cars themselves! This '66 450SS, once owned by Wilt Chamberlain,…
By the fifth year of the Mustang II, Ford's ads for the Pinto-esque pony were taking a different approach than those from '74. In 1978, you could pick up a new base Mustang Ghia (i.e., the one with the Malaise-o-riffic 88-horse four-cylinder) for less than the 1977 price. Sign us up!
What happens when the most celebrated Italian designers get their hands on a Mopar catalog? Nothing much, these days (perhaps a Bertone-tuned Jeep Compass?). But there was a time when such pairups were as fruitful as the Rossellini-Bergman mashup. One such fruit was the Ghia 450SS, a Barracuda-powered model, designed…