In a move uncharacteristic of the franchise, yesterday's new Mad Max teaser is full of cars, explosions, and hardened stares.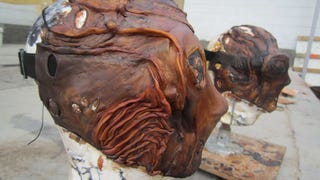 A new batch of deranged images from the set of Mad Max: Fury Road reveal a fleet of killing machines, wacky skin mask fashion, and potential nemeses. We're not sure, but we do know that this Mad Max is going to be a lot different from its predecessors, just in terms of special effects and crazy new characters alone. …
After we revealed yesterday Mad Max 4: Fury Road is green-lit, director George Miller's provided a sneak-peak at two cars from the new movie. One is the Max's iconic supercharged Interceptor, the other, a monster-motored hot-rod pickup.