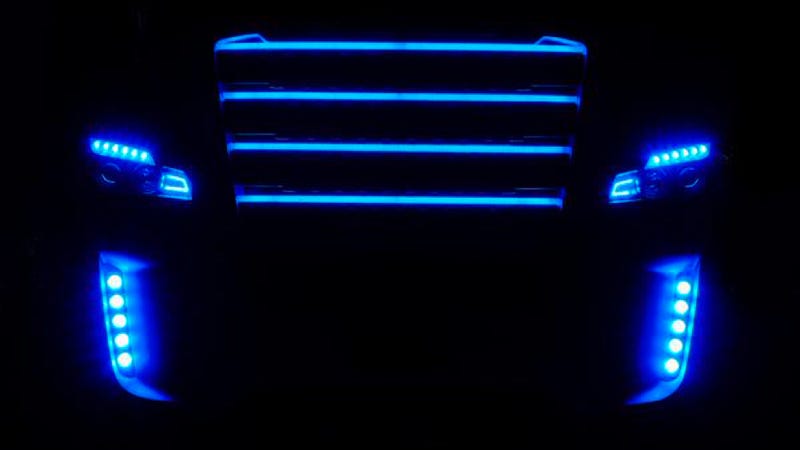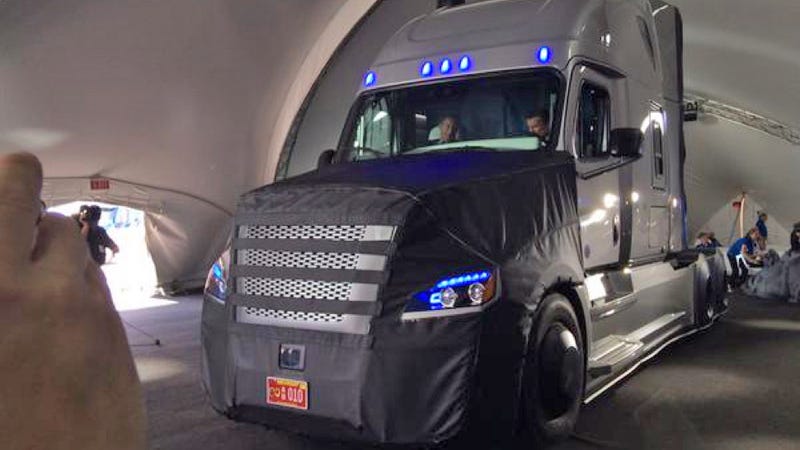 The Freightliner "Inspiration Truck" will be the first autonomous commercial truck to drive on American roads. Nevada Governor Brian Sandoval and Daimler Chairman Wolfgang Bernhard just bolted on its Autonomous Vehicle license plate to prove it's the real deal, and it's already been spotted in action.
After five years and $115 million of development, the Freightliner SuperTruck is Daimler's answer to a lofty challenge set by the Department Of Energy: "improve semi-truck fuel economy by at least 50 percent." This concept blows that benchmark out of the water.
Freightliner semi-truck racer Mike Ryan had a serious spill at Pikes Peak just a few days ago, with his race rig dropping down the edge of the road and into the woods. Here's what he has to say about it.
Ever watched the Gymkhana videos and thought sure, that's fun, but that car's too damn small, and where are all the guys getting dragged along behind it, or the Crown Vics on two wheels?
Gale Banks is one of those people who's well-known in certain specialized circles, but still not as recognized as he deserves in the general auto-adoring population. Banks has a great many claims to fame, and vast, complex articles could be written, but let's start with this batch of remarkable achievements.
Driving a rally-prepped Subaru WRX STi, David Higgins shaved 30 seconds off the top time for the annual Mt. Washington Hill Climb on Sunday, reconnoitering the 7.6 mile circuit in 6 minutes, 11.54 seconds. Also in competition: Mike Ryan's hillclimbing, Gulf-liveried Frieghtliner, which you can briefly experience below.
Hot Rod Magazine got 9 time Pikes Peak Class Champion and Pro Racer Mike Ryan and his Freightliner to the Toyota Speedway to prove there is at least one Big Rig that can drift. (Hat tip to autoedit!)
I've long admired the super-efficient Sprinter van, but never quite understood the constant shifting of marques under which it was sold. Dodge? Mercedes-Benz? Freightliner? Truck expert UDMan to the rescue!
Here at tha Jalop, we've got a known affection for European vans. And while Ford may have some sugar to lend us us in that department soon, the Deutch-Amerikanische hybrid was first, bringing the Mercedes-Benz Sprinter over first as a Freightliner, then as a Dodge. We're not sure of the details worked out with…
Autoblog noted it. PickupTruck.com noted it. So we're not gonna note that the Sterling Bullet didn't debut at Geneva today, but rather at the National Truck Equipment Association Work Truck Show in Indy. A division of Freightliner (itself, of course, part of the German-American Hybrid) with a history that dates back…