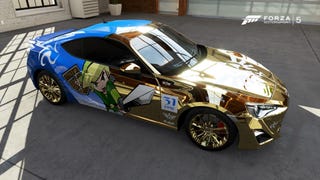 While the reaction to the improved graphics and control in the Xbox One's next-gen racing simulator has been enthusiastic, players have been grousing almost universally about one thing: pervasive microtransactions. Dev studio Turn 10 has heard the feedback and has just announced a new round of changes to …
Some say he's The Stig. But he's not. He's The Stig's digital cousin. And he's coming to Forza Motorsport 5 on XBOX One in November.
Just the other day, we received a big old poster from the fine folks over at Microsoft with a picture of a lovely McLaren P1. There was no explanation, other than a small note on the back that we'll see "our frame in motion on September 19th." Now we know what's up.