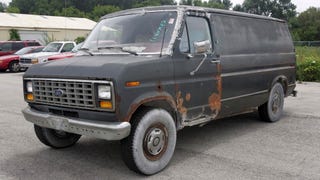 The Ford Econoline wasn't just a van, it was America's draft horse. It was how Americans got stuff — building stuff, delivering stuff, repairing stuff — done. Now it's going away, to be replaced by the Ford Transit. But the Econoline was more than just a work truck. It was freedom in a box.
Ford announced today that the evergreen E-series Econoline will be replaced in 2013 with the European Transit van. The new full-size vans will be built in Ford's Kansas City plant, and will possibly debut at the Chicago Auto Show. Say farewell to the E-Series — the era of the T-conoline is now upon us.
Ford introduced the Econoline to the world in 1961 as the truck with a new shape, new design and new name. Based on Ford's compact Falcon, the Econoline was available as a "panel truck" work loving, fun loving "station bus" and our personal favorite, the pickup truck.
Welcome to Down On The Street, where we admire old vehicles found parked on the streets of the Island That Rust Forgot: Alameda, California. Here's a front-engine Econoline with Aristocrat RV conversion on the back.
As shelter is the largest single expense for most people, the ongoing "
Financiapocalpyse
" could see more people trading that Tudor for a four-door. As your guides through this challenging time, we've identified ten cars you'd be happy to call home until your 401k is worth more than the postage used to send you those…
Welcome to Project Car Hell, where you choose your eternity by selecting the project that's the coolest... and the most hellish! The last time we ventured into El Infierno Del Coche, we experienced the joy of electrical fires and short vehicle range in the Arc-Weld Your Soul challenge. That one was a close race, but…
Let's say you're living in a van, down by the causeway, and you're interested in more square footage. The fool's way to that goal of jammin' mega-Econoline is to simply buy a retired school bus, or maybe even a still-running tractor/trailer combo. That or you could just hack off the very back of your van and weld on…
If you're part of a small but growing business looking to upgrade your fleet with a 1989 Ford E350, but you're also worried about the high price of diesel, we've got the Craisglist find for you. Sellers Daniel and Annika Ryan have rigged their great white beast with a vegetable oil system that REALLY WORKS. Our only…