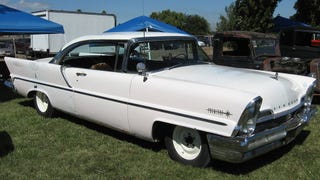 It was 89 years ago Friday when the Ford Motor Company agreed on a deal with Henry Leland to purchase Lincoln. Leland, who was also a founder of the Cadillac auto brand, established Lincoln Motor Company in 1917.
Today is Pearl Harbor Remembrance Day and to show our respect, our Nice Price or Crack Pipe contender is an all-American icon that has benefitted from its Japanese invasion.
"Oh Helen, I just love your Batmobile — where on earth did you get it? And those shoes! To die for!" (1955 Lincoln Futura concept, a.k.a. Adam West's Batmobile, when new.) Photo Credit: Ford
We couldn't let the Fiesta Movement contest go without submitting an entry and since it'd be unfair for Jalopnik to enter one, I decided to enter one on my own. Guess what? You can help!
Ford has just announced that its sales fell 28% during the month of June, resulting in overall sales during the first half of 2008 that are down 14%. Looking specifically at truck sales, numbers fell 36%, down 18% for the year. What's to blame? As if you have to ask: High gas prices, a weak economy and low consumer…
It's taken 12 months of steady declines (strategic withdrawals) before Mark Fields could claim a victory in sales, by selling 182,951 cars in November. That's a whopping 0.4% increase over November 2006. Most surprisingly, the refreshed and SYNC-ed Ford Focus realized growth of 18% compared with last year. Sales of…
Yikes. Aside from being knocked off the number two plinth by automotive juggernaut ToMoCo and losing $12.7 billion, FoMoCo must endure the additional dishonor of being pushed back to the number four sales spot by Dr. Z's Moustache Daimler-Chrysler for the month of January. There may be a silver-lining to these gray…