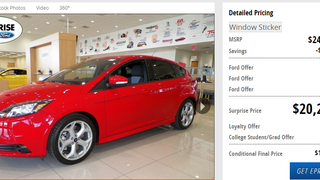 So the Focus ST might not be the best car to take to the track, but that doesn't mean it isn't a killer hoon machine for everyday driving. With the upgraded 2015 ST about to hit the lots, dealers are slashing prices on the previous generation. That is good news for you.
The Detroit Auto Show is always a lot of fun, but in this era of spy photos and leaks, there aren't many real surprises. One huge exception we encountered here was this, the Shelby Ford Focus ST covered in a bright orange tarp just outside the media center. For days we've been wondering what kind of magical mysteries…
This week, Ford released final pricing for the Ford Focus ST — the car bringing performance back to the Focus range here in the United States. Since Jalopnik readers seemed so geeked by the announcement — and the car itself — we've invited Lisa Schoder, the marketing manager for the car, to come in here at 9:00 AM EST…
Enthusiasts of the big blue oval holding out for the Ford Focus ST will be pleased to discover the global hot hatch will cost only $24,495 ($23,700 MSRP + $795 destination) when it arrives at dealers this fall. GTI who? Mazdaspeed what?
Ford's Team RS and SVT engineering teams are putting a fleet of around 60 pre-production prototypes as the automaker begins the process of testing its new hot hatch. And because this will be Ford's first true "global" enthusiast car, the testing's running on both sides of the Atlantic — from California's freeways to…
The first new 2012 Ford Focus rolls off the assembly line today in Wayne, MI. That bitter taste? Yeah, that's adrenaline from the thoughts of the upcoming 246 HP Focus ST coursing through your reptilian brain. Do want. [via Fiestagrrl]
We caught one of the personalized 2012 Ford Focus STs without it's diaper a couple hours before its scheduled unveiling. This baby crap brown-on-banana yellow better be quick, because I wouldn't want to be seen it.
The Ford Focus ST is the 247 hp Ecoboosted hot hatch we've demanded Ford to send stateside. Here it is with a sweater vest-less CEO Alan Mulally showing off. More here and here. Center exhaust... yummy.