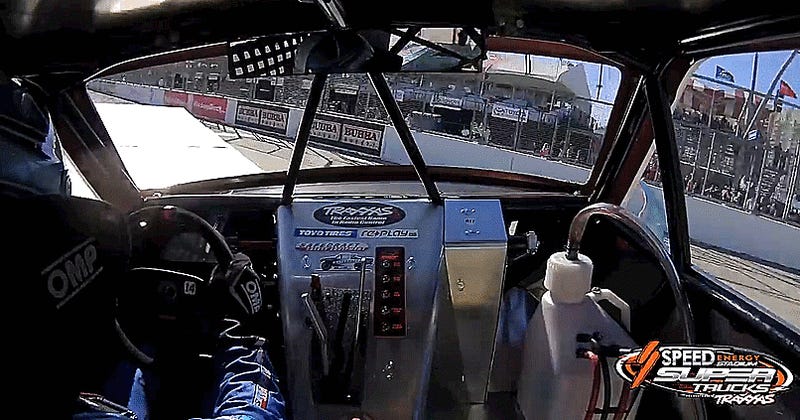 We love Stadium Super Trucks because they do everything bigger and crazier—even with wipe-outs and camera angles of said wipe-outs. Enjoy this harrowing ride-along aboard a truck that gets thrown into a catch fence.
Ed Carpenter is the latest driver to experience a frightening flip in IndyCar. His #20 Chevrolet spun exiting turn 2 during a practice session this morning, hit the wall backwards, then climbed up the wall, eventually landing upside-down. The result was pretty scary. Thankfully, he escaped the flip unharmed.

Here's an in-car video from onboard Byron Defoor's roof-bound Highway to Help Riley-BMW Daytona Prototype, running at Daytona for the Roar Before the 24. It's one of the most bizarre videos I've ever seen, mainly because it feels like forever before the car hits the ground.
No matter how well prepared you are, when the Dakar Rally bites you, it bites you hard. The El Martillo Racing Dodge Durango driven by Matthew Campbell found this out during yesterday's Stage 7A with a big end-over-end rollover that ended in a big fireball. Fortunately, everyone in the truck was okay.
"Accidents happen," said the unfazed instructor of an English woman who flipped a Fiat 500 during her second-ever time behind the wheel. Must have been a helluva ride as she's already booked her next lesson.
We're not quite sure how you flip a low-slung sports car like a Shelby Cobra without even leaving the track, but this video shows doing just that is physically possible. Ouch.
Rick Huseman performs a perfect double flip in his racing Toyota Tundra in this video, making the difficult move look both easy and intentional.