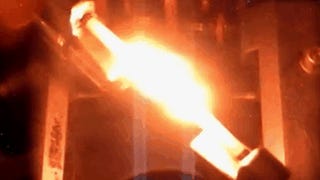 Remember that flame burst recorded by an astronaut aboard the ISS? Well, it wasn't just for the fireworks. In fact, that great ball of fire led to the discovery of a previously unknown type of cool-burning flame that isn't even visible to the naked eye.
Letterboxing, flames, a sled, and whitewalls. Some things just make you glad to be an American. [via FuckYeahCarburetors]
Over nine million General Motors pickup trucks built in the '70s and '80s have a tendency to explode in otherwise non-fatal accidents. This is FairWarning.org's detailed look at how an added "feature" made those trucks deadly. —Ed.
We're not so sure this is legal, but the cops were so busy hassling people doing burnouts that they probably didn't even notice the giant flames spewing into the sky from this party bus. By the sounds of it, we'd guess the fire-spitting mechanism was the sort of rig you'd find on a hot-air balloon, but maybe it was…

We're a little torn over this gold-plated, flamed, continental-kitted '76 Corniche. While we approve in principle, we have a few quibbles. First, it's not low enough. Second, gold-plated hubcaps? Come on, if we can put a man on the moon, there must be some way to make spinner wire wheels. Third, where's the 8-71…