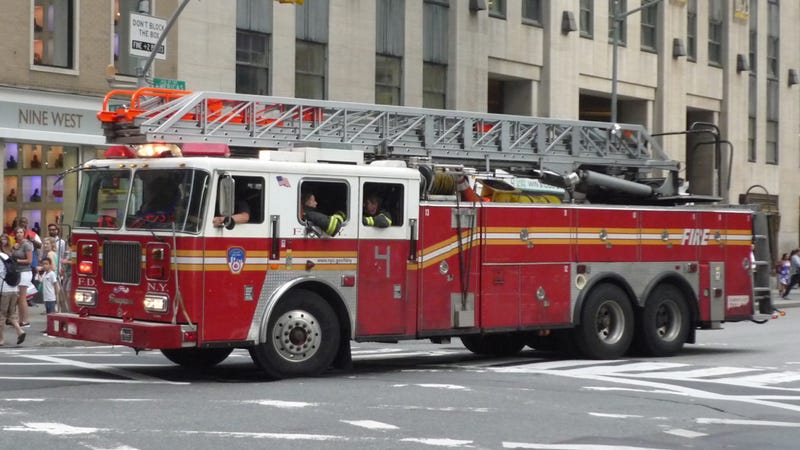 Being any sort of emergency dispatcher, but especially one for the New York City Fire Department, has to be a rough job. A dispatcher known as "Eddy-O" in Queens worked on the job for 32 years, however, and he loved it. So when he tearily signed off for the last time, it was pretty sad. But then every single fire…
GM has been taunting me with this firefighter-kitted 2014 Chevrolet Silverado for months, even pandering to my childish fascination with rescue vehicles by turning on the swath of LEDs for me at last month's Chicago Auto Show. You know what guys, just build the damn thing.
What's it like to drop fire retardant on the Rim Fire near Yosemite National Park? It's "kind of creepy."
No, it's not some new firefighter hazing. The Sauk Centre Fire Department — a 30 member all-volunteer firefighting crew — was fundraising at a St. Patrick's Day parade, dressed in drag to entertain the crowd — because, you know, pretending to be women is funny. When the fire began to spread, they hitched up their…
Tucked into a corner of the basement is a 1937 Seagrave Safety Sedan, known amongst fire truck junkies as the Detroit Safety Sedan and it represents one of the more interesting untold stories here at Detroit. When a firefighter falls in the line of duty, there is a longstanding tradition of using a firetruck as the…

Anyone see this yet at our gadget-obsessed brother site? Pretty funny — except it seems no one at Gizmodo was able to ID the car — I'm sure at least one all of us can probably tell them. [via Gizmodo]
A few SEMA Shows ago, we had dinner at Don Miguel's in the Orleans Hotel with Bob DeVour, the guy who basically invented the Jaws of Life when he worked at Hurst. He was also responsible for driving Linda Vaughn around for a while. Man, what we wouldn't do to have been the Miss Golden Shifter chauffeur... Hurst has…
While describing a car wreck in our high school yearbook, we once wrote, "Cars and trucks and things that go also stop. Sometimes with deadly results." Some of these cars are now hybrids, which require a different methodology for rescue workers attempting to extricate accident victims from vehicles with 200 to 280…