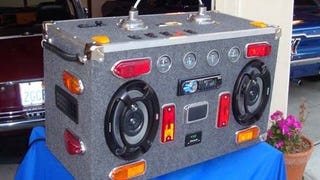 More than two years have passed since I built the car-battery-powered Turbo II, Junkard Boogaloo boombox, and finally some other masochist innovator has decided to experience the headaches joy of a homemade boombox afflicted blessed with genuine Jaguar components: Catbox!
Many of us have looked at a beat-to-hell sedan, then reached for the Sawzall and created an open-air summer cruiser. Then, when the weather turns cold/rainy, it gets junked. But if you're Belvedere Adrian, you keep driving it for decades!
The Ghost Ride The Whip 24 Hours Of LeMons penalty doesn't need much explaining: screw up on the track, you and your team dance your way around the paddock while on or around a LeMons Supreme Court Official Vehicle.
You want a great power-to-weight ratio and plenty of drive-wheel traction? Head on down to Macon, Georgia, where this 1989 Buick Park Avenue-based three-wheeler could be yours for just 600 bucks!
You see a lot of budget-challenged repairs and modifications on Crusher-bound vehicles; along with adding a handful of Little Trees, a car's final owner often performs some last-ditch fixes in order to stay mobile.