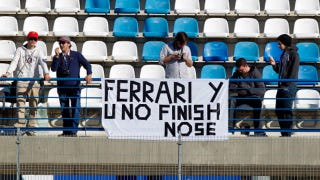 Caving to the wave of backlash over its now-aborted five-seater prototype, Ferrari has hastily redesigned its F1 car overnight, resulting in this ugly little duckling, the F2012. Force India unveiled its own duck-billed racecar as well. Click through for in-depth details on these machines.
Are you a Ferrari racing nut? Do you bleed little prancing ponies? Well here's a gift for you — a graph of every Ferrari Formula One entry from 1950 through 2010 — 60 years of Ferrari racing evolution. [Publico (translated)]
The Supreme Court says you know pornography when you see it. When we saw the Ferrari F60 in person and experienced first-hand its ability to warp the universe around it while at rest, we realized it's absolutely pornography.
No, Tanner Foust is not being considered as a replacement for Kimi Raikkonen at Scuderia Ferrari, but the Top Gear USA host spent some time behind the wheel of a Ferrari Formula One racer. Though by "seat time" we mean that he just sat down in the car, and was then asked politely to get out. Lame. Apparently is was…
We hear the "breathing hole" on the nose of the new Ferrari F1 car will, in addition to providing a more efficient Ferrari front wing with less drag for increased top speed, also help with those annoying bouts of severe sleep apnea. Also, all the other kids at school would still be laughing at Ferrari's little…
First it was those wily Italian Ferrari forgers, now the masters of intellectual property reuse seem to be getting into the game of copying the prancing pony boys. By the looks of this illustration, Chinese automaker Geely seems to be flattering Maranello's F1 squad by way of imitation. We're not exactly sure just how…