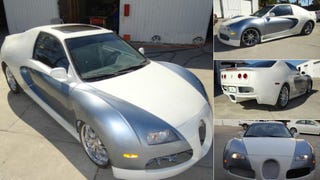 Some brilliant entrepreneur on eBay is offering a fiberglass body kit designed to turn your $1,600 mid-'90s Honda Civic coupe into the $1.6 million Bugatti Veyron for just $4,500. Buy it. Buy it now. You absolutely must.
Not everyone can own a Ferrari. They're expensive, fast, and constantly blow up. But making a Pontiac look like an Italian stallion to avoid the first problem is just plain wrong. Our look at the ten most blasphemous Faux-rarris below.
We've seen fake Ferraris, but few as bold as this convertible Geo Metro redubbed the "Dino GT 760." The attention to detail is admirable, but we're sure every dead Italian is spinning in their graves like a twin-turbo V8.