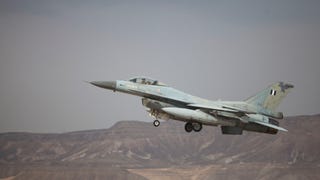 A Greek F-16 in Spain as part of a NATO training mission crashed shortly after takeoff, killing at least 10, according to El Pais. Thirteen were injured, including six critically injured, the Spanish Ministry of Defense confirmed.
A pair of F-16 Fighting Falcons from the 125th FS of the Oklahoma Air National Guard reportedly collided while in a training exercise somewhere over Moline, Kansas. Both pilots are fine but one of the them had to eject and their jet appears to have been destroyed on impact. The other aircraft landed safely back in…
Turkey has warned Syria many times about incursions by Syrian aircraft into their airspace. This weekend, they once again made good on those warnings via downing one of Syria's geriatric MiG-23s. What's going on here?
What do you do when you're not busy blowing stuff up in your F-16? If you're anything like these Danish pilots, you go scare the crap out of drivers on the long and vulnerable Storebæltsbroen bridge.
These F-16 Fighting Falcon fighter aircraft are demonstrating what the U.S. Air Force "propaganda artists" (Hat tip to Jalopnik photographer and former U.S. Air Force "propaganda artist" "Special K" for the term!) call an "Elephant Walk" as they taxi down a runway during an exercise at Kunsan Air Base, in the Republic…
Perhaps not wanting to be left out of the good times being displayed by their Argentinean counterparts, someone just uploaded a compilation video of US Air Force pilots purportedly in Afghanistan and Iraq trying some close shaves of their own. DUCK!
Workers at a Lockheed Martin plant in Texas are attempting to one-up their Michigander counterparts by drinking and smoking during lunch while building F-35 fighter jets. Cue the local news gotcha video.
The Air Force is testing a new self-destruct system by blowing up old F-16s. Why? To avert what happened earlier this month when the Navy lost control of a drone over Washington, DC.
Apparently a couple of GI's were out minding their own business, driving a shiny maroon Chevrolet Suburban about five klicks out from the live fire range at Dugway Proving Grounds in Utah. Unfortunately at 10,000 feet, it's a bit more difficult to discern distance-from-target, and an F-16 pilot in the area thought the…