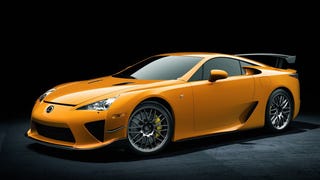 The base price of the limited edition Lexus LFA is $375,000 MSRP. The even more limited edition Nürburgring Package will run $465,000 thanks to a $70K sport package and $20K matte black paint.
Toyota's taken a Lexus GS, dropped on a bunch of F-Sport accessories and painted it a metallic brown for SEMA. The car looks the F-in' part, although no word on whether the engine upgrades are F-sporty. Still, it is brown.
If you have a Lexus IS Convertible or GS and still want to look like you're driving a Lexus, but not the Lexus IS-F, you'll soon be able to upgrade with official "F-Sport" parts.