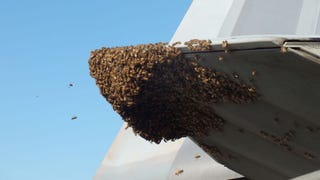 The F-22 Raptor is one of the military's most powerful weapons, but everything—man, woman, sentient rotted orange—has a weakness. For the fighter jet, that weakness is BEEEEEEEEEES!
A gaggle of F-22A Raptors belonging to the 199th Fighter Squadron, which is part of the 154th Wing of the Hawaiian Air National Guard, deployed to the Middle East yesterday. This comes as tensions are hot between the U.S. and Russia over Syria and as the F-22 seems to be in demand around the globe.
It's true that the F-22 Raptor has never been tested in battle. What's also true is that it has dominated nearly every realistic wargame it has ever come across. It is faster, stealthier, and more deadly than any fighter jet ever before it, and it doesn't hurt that it's the second prettiest plane ever made, either.
The U.S. Air Force's fleet of radar-evading F-22 Raptor fighters has been grounded until "further notice." It's the latest blow to the reputation of the world's most expensive, and allegedly most fearsome, dogfighter.
During a training mission yesterday, an Air Force F-22A Raptor crashed on its way back to Edwards Air Force Base in the California desert, unfortunately taking the life of the pilot with it.