We're camped out at Eldora, where dirt prodigy Kyle Larson hopes to take the golden shovel home with him and, hopefully, avoid questions about how he maintains his bum. He's joining us in the JALOP-1 Airstream to answer any and all of your questions. Ask away!
NASCAR's Kyle Larson will be joining us in JALOP-1 at 3:45 PM EST today to talk about the Mudsummer Classic. He's one of the favorites here so hopefully we can give him the Jalopnik Bump.
I'm sitting in the back of our bigass Airstream Interstate in one of the plush captain's chairs, typing away on my laptop while Raphael pilots us past West Virginia into rural Ohio. This is the way to be.
So begins our road trip to Eldora and the sheer glory that is NASCAR trucks on dirt; we switched from a Fiesta to an Airstream RV.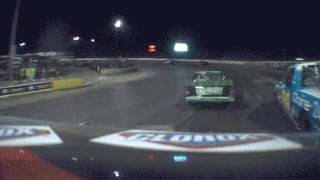 Last year I watched F1 cars zip around COTA and sports cars take their last laps in the sunsetting ALMS series at VIR. So it's with authority I say nothing was more fun than watching NASCAR trucks on TV trying to drive around a dirt track in middle-of-nowhere Ohio. This year I had to see it in person. That's right, …
Back in 1965, NASCAR was seen as nothing more than a niche sport for southerners. The calendar was made up mostly of short tracks, both dirt and paved, and it only reached the national spotlight in "ABC's Wide World of Sports". That began to change quickly, however, and by 1970 the series had outgrown it's dirt track…
Despite a late-minute surge from folks like drag racing champion Cruz Pedregon, who proved quite adept at turning circles at Wednesday night's fourth annual Old Spice Prelude to the Dream charity race at Eldora Speedway, the winner ended up being the man that brought the racers there — Tony Stewart. We're assuming…
...and the Prelude To The Dream race starts at 7:00 PM tonight. We could totally make it down to the Tony Stewart-owned track. And believe us, we seriously thought about taking a run down to the track from Detroit. But frankly after covering it last year, the thought of spending the next week wiping down the dirt from…