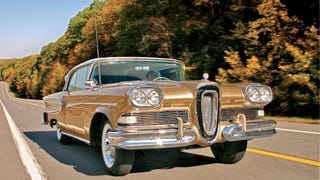 (While the Edsel was not a huge success, it spawned some of the most successful cars to ever come out of the Ford Motor Company. Daniel Strohl at Hemmings takes a look back at what was. - TO)
It was 89 years ago Friday when the Ford Motor Company agreed on a deal with Henry Leland to purchase Lincoln. Leland, who was also a founder of the Cadillac auto brand, established Lincoln Motor Company in 1917.
Billetproof is one of our favorite series of car shows, highlighting vintage-style hot rodding, various elements of car culture, and taking itself none-too-seriously. This beautiful gallery of photos is a peek at Billetproof Texas.
You may think you've experienced a planned community in which every last detail was carefully designed by lab-coated scientists in 1956 to elicit Maximum Upscale Suburban Ennui in its residents, but only Irvine, California, gets it down perfectly. Well, almost perfectly, because Al Frente has spotted these…

Apparently believing the Studebaker Champ pickup he shot wasn't quite rare enough, VintageRacer went back out on the Seattle streets and found this 1958 Edsel station wagon, equipped with the finest in Eisenhower Era woodgrain and surprisingly little rust. Make the jump for another gallery and VintageRacer's…

The Edsel wasn't just a failure- it was a colossal disaster for Ford, costing them $250,000,000 by '59, the equivalent to two billion 2007 dollars. It seemed like a good idea at the time; Ford wanted a brand that would be the equivalent of GM's Buick, positioned between Mercury and Lincoln in their hierarchy, but…
Mental_floss explores the automobile as metaphor, aligning the Edsel with failure, the Pinto with volatility, the DeLorean with spastic hype, the Yugo with shoddiness and the Corvair with a lack of safety. Which is all well, good, fine and dandy. But there are other, more obscure vehicular metaphors out there. And it…
We all remember the Pontiac Aztek, our generation's Edsel. A car so bad, Pontiac even managed to spell the name wrong. Design-wise, the worst element (besides the gas-cap wound) was all that damn cladding. But then, after Pontiac only sold four cars in 18 months (or whatever), GM did the unthinkable – they restyled…
Reader Mike wrote in with a plea for us to stop with the Caminos. But then he included this link to a '58 Edsel customized by a guy buy the name of Pudge Wiley and his father back in 1963. According to Pudge, his mother was none to please when they saw what they'd done to her car, but eventually came around. And…
Leroy Walker of Beulah, North Dakota loves him some Edsel action. Not just a little, but a whole lot of Edsel action. 226 Edsels' worth, actually, from rusted derelicts to an exceedingly rare Citation convertible. Stating that "The highway gets a little sweeter when you're driving an Edsel," Walker started collecting…