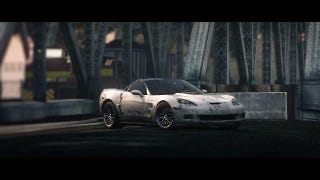 Early signs seem to indicate that the next Need for Speed game will essentially be a spiritual continuation of the Burnout franchise, especially since it's being made by the Criterion dev studio that created those games. The hard-driving action in this new trailer—featuring a Corvette ZR1, Koenigsegg Agera R and…
Collect your winnings, people, on one of the safest bets in video games. There will be a new Need for Speed this fall, a fact EA believes it already told us (they did?). They've got it listed in a new slide that shows all their "announced" games for the rest of their financial year (ending March 31, 2013!). No further…
Battlefield 3 has finally figured out that the key to making a successful television ad is not to pick a theme song whose essential lyrics must be bleeped, and just put it all in the hands of filmmaker Freddie Wong.
Porsche loves to claim it's the winningest carmaker in history. But that's a lie. Most people now race in video games. And now, thanks to Porsche's absence from Forza 4, most video gamers won't be racing Porsches to victory. It also confirms what we've long known: Porsche doesn't care about video game people.
Because EA is evil, that's why. Kidding! See, EA has the license for Porsche cars, thus, making them available only via a sub-licensing deal. The cars did appear in Forza 3, and featured RUFs, which are tuned, unmarked Porsches.
Who would want to buy Need for Speed-branded Mega Bloks construction sets? That's the question I asked myself when I first heard the LEGO competitor had taken on EA's racing game license earlier this year. Now that the sets are hitting store shelves, I have an answer: Me.