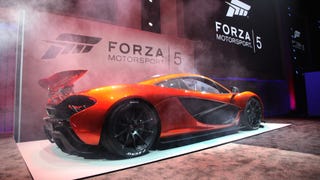 Turn 10 is going nuts for McLaren, wheeling out a P1 for their Forza 5 presentation today at E3.
Continuing a long tradition of wonderful adaptions of video games into movies, which are never, of course, soul-crushingly awful wastes of the human spirit, the Need for Speed racing game franchise has a movie coming out soon, and it'll star a Mustang.
Microsoft debuted their new trailer for Forza Motorsport 4 at E3 2011 last night, proudly displaying the game's new Kinect-enhanced ability to see the flying cars you're about to hit.
According to the Gran Turismo creator, Kazunori Yamauchi, GT Mobile will feature all of the tracks from GT4 with an updated car list to include 800 semi-customizable cars. Yamauchi has said that they are trying to keep the game under 1Gb due to the internal memory rating of 16Gb on the PSP Go and will be available…
Live at the E3 Expo, Kazunori Yamauchi released two new puzzle pieces to his highly-polished Gran Turismo series. The first? Gran Turismo 5 for the PS3, a direct competitor to Turn 10 Studios just-released Forza Motorsport 3. Packed with active weather effects, night racing and damage modeling, Yamauchi promises GT5…
Just released at E3 is this tasty new HD Forza Motorsport 3 trailer as well as some gorgeous high-res screen captures that help us think the new game will give Gran Turismo 5 a huge run for its money.