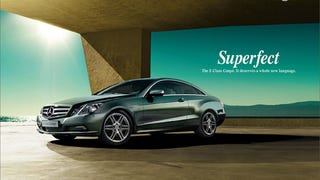 The Mercedes E-Class Coupe's quite nice, yes, but so nice as to be perfect — or so perfect as to be deserved of a new word to describe its perfectness? Not so much. [FuckYeahAds]
For the wee fee of just €29,000 ($39,000), you can take the 2010 Mercedes E-Class Coupe from mundane to profane with this latest tuning kit from BRABUS.
Replacing the CLK, the 2010 Mercedes E-Class Coupe adopts a similar look to the new E-Class Sedan and most of its mechanicals. It's just a shame it's not as fun to drive as the four-door.
The new Mercedes E-Class coupe scheduled to go on sale early next month, Mercedes is promoting the car with an odd commercial called "Beauty" featuring beautiful women riding horses. And that's about it. [via WCF]
The 2010 Mercedes E-Class Coupe is available in five flavors of internal combustion goodness. In an attempt to tease our internal dragon, Mercedes released this gallery of engine pR0n.
Here, finally, are official photos of the 2010 Mercedes E-Class Coupe range including the AMG-tuned E500 Coupe above. Accompanying our mega-gallery below are all the details on the new two-door's stunning... efficiency?