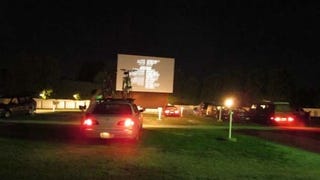 I spent my senior year in high school working as the ticket-booth guy at the soon-to-be-defunct Island Auto Movie, and so I feel profound pain over the Death Of The American Drive-In Theater. But the drive-in isn't dead in Wisconsin!
It was on this day, 75 years ago, that Richard Hollingshead Jr. opened his first drive-in theater in Camden, New Jersey. At its peak, there were nearly 5,000 drive-in movie theaters across the country. In the post-WWII period, the drive-in represented both the emergence of the teenage leisure class and our country's…
When I worked at a drive-in theater in the early 80s, we had a few of the traditional low-budget snack bar movies to show during intermission, but mostly we had even lower-budget slide-show ads. Yes, boring old still images to hawk our silverfish-infested popcorn (yes, really; silverfish like popcorn) and months-old…
There was a lot of discussion about Sonic Drive-Ins on Friday and the question was posed: why would car enthusiasts care about drive-ins? First, there is the obvious &mdash that they're restaurants where you can "drive-in" and enjoy a meal in your car. But there's so much more.