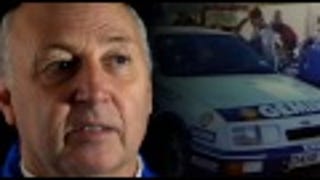 Everyone here at Jalopnik has been anxious to see Black Air, a documentary about the beloved Buick Grand National and GNX from New York filmmaker Andrew Filippone Jr.
Oregon State University is producing a documentary about the collegiate racing/engineering series Formula SAE and, if the trailer is any indication, RELENTLESS looks like it wants to be to collegiate Formula SAE racing what SENNA was to Formula One. Awesome.
Last year, Eric Koretz at The Image Hunter showed how to capture classic Ferrari Formula 1 racers in 3D. Here's his follow-up, showing the epic detail necessary to get three-dimensional racing footage of classic F1 cars. — Ed.
3D photography requires precision, tons of equipment, and heroic jury-rigging. Shooting a vintage Ferrari requires all of this plus serious balls. The Image Hunter shows us how it's done. —Ed.
Did you know that Mulholland Drive was originally built to be a scenic road specifically designed for enthusiastic driving? No surprise then that a thriving street racing scene existed there until the police largely shut it down in the '80s.
An officially sanctioned F1 documentary will omit Max Mosley's five-hooker Nazi sex orgy, focusing instead on racing between 1968 and 1982 when the sport was still exciting. It's being described as "a big action movie."
Top Gear's James May's now been subjected to 5 Gs in a NASA centrifuge and traveled roughly 450mph, 13 miles above Earth in a U2 spy plane all for the sake of honest journalism. The documentary, titled James May On The Moon, will explore the trials and tribulations of how NASA put 12 men on the moon throughout…
The whole thing's on YouTube, so there's six parts. We've embedded the first above the jump and here's links to the rest. In case all this piques your interest in a way that you really, really shouldn't tell us about, here's Sex With Cars: A Tutorial.