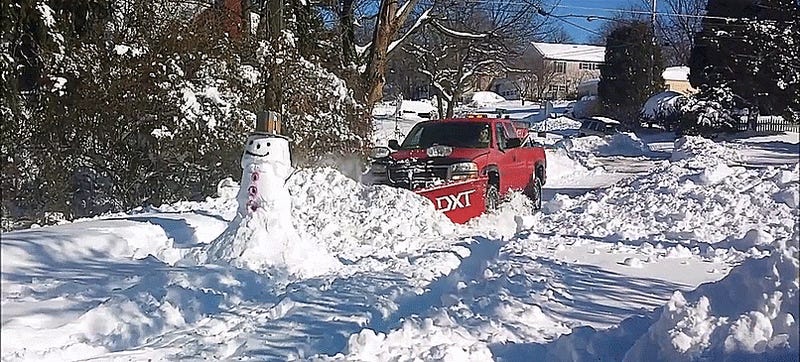 There's something cathartic about watching snowmen get run over when you're over the idea of winter. Given the total chaos caused by this weekend's blizzard, I think we're ready. This snow plow truck demonstrated its wrath for Mother Nature by annihilating this snowman into tiny bits, and it's so satisfying.

The engine of this old Ford F-150 was surgically blasted to oblivion from more than a mile away by a 30-kilowatt fiber laser weapon system called ATHENA made by security and aerospace outfit Lockheed Martin. ...Yikes.
In case you've forgotten about Iraq, it is still A Country That Exists with 36 million people living in it. And the biggest northern city of Mosul was just completely overrun by extremist insurgents, whose first order of business seems to have been to burn anything that has wheels attached.
Aptera, the California electric vehicle startup that once hoped for ten thousand sales of its futuristic three-wheeled 2e per year, ceased operations on Friday after failing to secure needed funding. As you can sadly see in these videos, in the wake of the collapse, the company's now-unemployed staff went on a…
The video earlier today of the busted Subaru being towed out of Miner's Gulch? Here's the moron doing it. Note the friend asking "Is this even meant for cars?" The answer is "no, no it isn't." Someone was kind enough to relieve him of his seats and stereo after he abandoned the car.
It's a little know fact that building potato cannons and destroying things with them is a right of passage in some rural communities. Ours was equipped with a rifled 1.5" diameter PVC barrel, 4" combustion chamber, and a self-grounding barbecue ignition embedded in a custom whittled pistol grip. Depending on the…
Today's hoons are following in the grand tradition established by Top Gear of trying to destroy Toyota trucks. Unfortunately, we don't have anything quite as cool as a Toyota Hilux to mangle. As with the Hilux, it takes a serious amount of full-throttle reverse action to put the hurt on this already well-worn Toyota…
Sometimes things get out of hand at Nankai University. We're not talking drunken keggers or a herd of sheep on the quad, we're talking student led destruction of a shiny new Buick LaCrosse over a traffic incident. The broken English translation tells the tale of the big China-only Buick getting scratched by a…
A demolition crew evidently lost their wrecking ball while trying to flatten part of a library in Pennsylvania. The 1500-pound steel ball ricocheted off a dozen parked cars for nearly a mile before coming to a stop in the trunk of a Ford Taurus stopped at an intersection. Miraculously, only three people were hurt in…