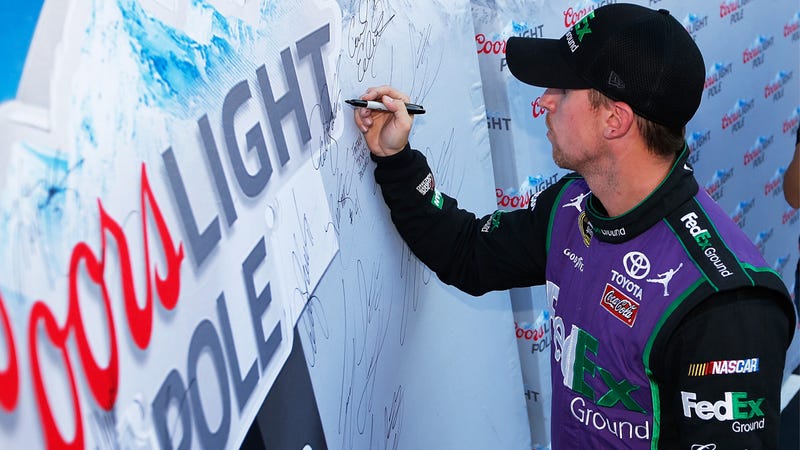 [Denny Hamlin signs the Coors Light Pole Board after not only securing both the poles for the Xfinity Series and Sprint Cup races this weekend, but also by beating the Sprint Cup track qualifying record for Bristol Motor Speedway by .005 seconds. Photo credit: Getty Images]

NASCAR doesn't always do the best job of explaining their debris cautions. Today's race at Texas Motor Speedway has a convenient Tex-Mex excuse for any yellow flags that get thrown. Pit lane commentator Michael Waltrip spilled a taco all over Denny Hamlin's car on the grid.
Danica Patrick got wrecked not once, but twice by Denny Hamlin this week, including during the last Daytona Duel race. Hamlin tried to explain his side of the story, but she's clearly not having it. Nuh-huh. Oh, and Kurt Busch totally cupped Danica's face after she had words with Hamlin to calm her down. (Too soon?)
NASCAR updated a bunch of its rules to try to make things a bit safer in the wake of the death of Kevin Ward, Jr. But if you thought that the tragic incident would've helped cooler heads previal, just for a little while, then you don't know NASCAR. Because Denny Hamlin just threw his HANS device at Kevin Harvick.