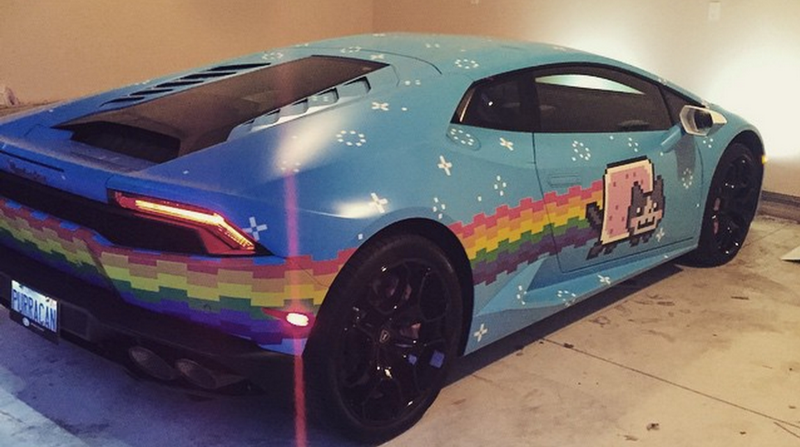 [We're not jealous of Deadmau5's BAC Mono at all. Not even a little bit. Nope. Via BAC Mono Twitter]
American Canadian hero Deadmau5 isn't going to let a lame cease-and-desist order kill his love for memes, exotic cars, or grating puns. After Ferrari quashed his 458 Italia "Purrari," the EDM artist announced on Twitter he's replacing it with a Lamborghini Huracan in Nyan Cat livery. Not bad!
Rich and famous car dudes — they're just like us! Sometimes they have embarrassing traffic mishaps in their vehicles. It's just that when they do, the stakes are a bit higher. Just ask exotic Uber driver Deadmau5 and Aerosmith frontman Steven Tyler.
You are noted Canadian electronic artist Deadmau5. You have a shiny blue Nyan Cat-themed Ferrari 458 Italia for the Gumball 3000. What do you do when you go on a coffee run? Why, you take Toronto mayor (and occasional crack user) Rob Ford with you, of course!
Everyone was all excited over Deadmau5's Purrari 458 being sold on Craigslist for big bucks. Apparently "everyone" doesn't include the trolls that infest the internet and click the spam button daily. Enter Autotrader to save the Nyan Cat day.
I'm not sure what's the best part of this story — that Deadmau5 is selling his Nyan Cat Ferrari 458 for $380,000 or that he's doing it on Craigslist.
No one can put wraps on their cars anymore. That trend is officially over now. Canadian dance music producer Deadmau5 just dropped the mic on car wrapping for good with his wonderful Ferrari 458 Italia Nyan Cat wrap. Nothing can top this supreme auto troll.
Okay, hypocrisy time. After I called out that Pink Dolphin Ferrari 458 Italia as the worst Ferrari paint job ever, you might think I also hate that EDM producer Deadmau5 wants to wrap his 458 in Nyan Cat livery. Except I don't because this is AMAZING.