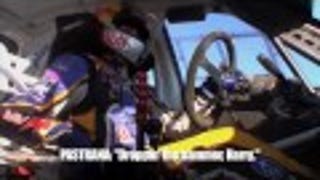 Rally America, I mean RallyCar, is holding its second rally-cross session this weekend at New Jersey Motorsports Park. If you make it over there, tell the guys at Subaru that next time we'd like less melodramatic music.
We warned you about it. We gave you plenty of advance notice. And now it's finally here. Our full 2009 Sno*Drift Rally film. Be afraid, be very afraid, because Jalopnik don't do no lilly-livered video.
Watch Joe the Italian loader driver one-up Dave Mirra's BMX bike skills with a big ol' Caterpillar front loader.