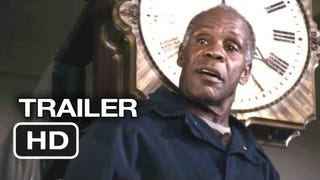 Filmmakers have taken quite a liking to Detroit in recent years. Its, as a writer for Time put it during the magazine's grand experiment yearlong reporting extravaganza on the city, "gritty backdrop" and Michigan's lucrative film incentive program has bolstered the production of a number of Hollywood blockbusters…
The Detroit Auto Show is often attended by a ton of famous celebrities, like the Jalopnik staff and some other, less important people. But at least one celebrity has come to Detroit to stage a protest outside the big show, and that's Danny Glover, the star of the Lethal Weapon movies.
If you missed Transformers 2: Revenge of the Fallen this past weekend, robogasmic warfare wasn't the only mankind-threatening destruction you would have seen. 2012 promises apocalyptic Bentley-jumping, aircraft carrier-capsizing and falling skyscraper-avoiding stunt flying.