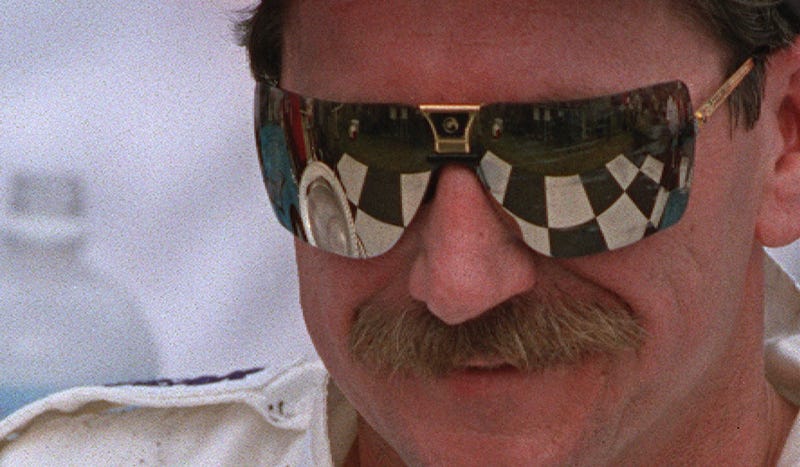 With NASCAR's Daytona 500 this weekend, the sport also marks the 15th anniversary of the death of one of its most legendary drivers: the Intimidator, Dale Earnhardt. While his fatal crash at the 2001 Daytona 500 was tragic and unexpected, it launched an increased focus on racing safety that has saved the lives of…
The legendary Dale Earnhardt made the number 3 famous in NASCAR. When Earnhardt died in 2001, the 3 basically died with him. But it was never retired, and next year it returns to the Sprint Cup Series with Austin Dillon at the wheel.
Dale Earnhardt won his 6th Winston Cup Championship in 1993, and to acknowledge that feat his Newton, NC-based Chevy dealership produced 25 custom Lumina Z34s. Today's Nice Price or Crack Pipe contender is one of the 12 of those to go the full Dale, but will you be intimidated by its price?
Dale Earnhardt Jr. says it'd be nifty if Michael Schumacher turned a few laps in Nascar: "We'd all really be thrilled to see it. Whether you thought it was great or right or wrong, we'd all be watching.'' H/t Swine!
With former Formula 1 champion Kimi Raikkonen mulling a career left-turn into Nascar, we figured he needed this video tour of the Nascar Hall of Fame, shot by Ralf Becker in January. Biggest surprise? Using air quotes near Dale Earnhardt.
During Sunday's Daytona 500, an ad appeared on Craigslist to sell the Lincoln hearse that carried NASCAR legend Dale Earnhardt Sr. body during his funeral for $8,800. It sold. Now, the seller tells us exclusively he now regrets it.
Our friends at Popular Mechanics have put together a list of what they consider the top ten most influential crashes in NASCAR history, complete with video. These ten smash-ups were influential not in how they changed the course of a single race, but in how they got us to today's "Car of Tomorrow," a race car that is…
While yesterday gave us our first look at the un-camouflaged new Chevy Camaro, who knew CNBC's Phil LeBeau had a scoop that'd put our blow-the-top-off coverage of Chevy's new muscle car to shame with the mullet-wearing demographic? He's got NASCAR star-of-stars Dale Earnhardt, Jr. ripping the new 2010 Chevy Camaro…

• Oil prices are too high, the environment's gettin' worse — and that's just why this man wants to make it easier for Big Oil to pollute. Well — to be fair — he did wait until after Earth Day. [Detroit News]
• Dale Jr.'s flyin' the black flag this upcoming week at Talladega for Dale Sr. We're totally wellin'. […