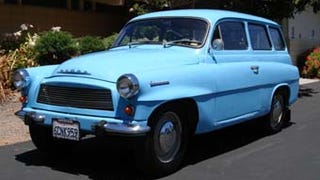 What's a reasonable price for a cool old car? Our readers are cold-eyed realists, or maybe you're all just plain cheapskates, and the last Nice Price vehicle was the 1979 Dodge Shag Van.
What has a rear-mounted, air-cooled V8, was made in Czechoslovakia, and had a reputation for killing Nazis? That's right, the Tatra! This example is a 1938 Tatra T87, owned and operated by none other than self-proclaimed member of the "more money than brains" club, Jay Leno. And if it that wasn't impressive enough,…
The Tatra T77, with its air-cooled V8 and slippery-even-by-2008-standards drag coefficient of 0.212, made just about everything else on the road in the mid-1930s seem like a wooden-wheeled goat cart by comparison. This brochure for the '37 model, aimed at German buyers, was perhaps too effective, with the Germans…
I've been making inquiries of our Czech friend BobAsh about the possibility of obtaining a Tatra V8 and transaxle from his homeland, thinking it might be fun to do a Tatra-engined VW Squareback as my personal Hell Project. He suggested I check out what some Czech madman did with a late-50s Škoda Felicia: first, a…
Apparently, it wasn't enough for our Coronet 440-drivin' Czech friend BobAsh to tip us off about some vintage Tatra hoonage or help us out with a Czech Project Car Hell. Now he's gone and found a beautifully restored, Communist-bureaucrat-spec '65 Tatra 603 sedan, shot a ton of quality photographs, and then…
Once again, our Czech tipster BobAsh has come through with the Skoda goods for us, this time in the form of a bunch of shots of a Skoda 440 (also known as the Spartak) from the mid-to-late 50s. Since BobAsh was kind enough to write a lot of description, thus sparing my lazy ass from having to, you know, do work,…
Since several of Los Jalopniks are now frantically scouring all potential North American Tatra sources in hopes of obtaining a fixer-upper example of our favorite air-cooled V8 Czech car, it was inevitable that we'd stumble across Dr. Nick's "Tatraplan" site. Sadly, all it has accomplished is to make us realize that…
After helping us do an All-Czech Project Car Hell last week, our Czech Connection, bobash, now sends us some shots of a hippified Barkas B1000. See, an East German van is far more suitable for patchouli-scented adventures than its West German counterpart. We're starting to think it's time for a visit to the Czech…
We've received some great tips for Project Car Hell, but tipster Bobash takes it to a whole new level with these finds. After watching the excellent Czech-hoonage Tatra promotional film, Happy Journeys, he found both a Tatra 603 and a cop-style Skoda 1201. Not only that, he did the translation, provided all the…
An air-cooled hemi-head V8 is always worthy of our drool, and we've dug up a video of a stand-mounted Tatra 603 V8 in captivity. Check out the compact size and that ingenious cooling-fan design. Hey, how about one of these in a Skoda?
So when you're driving behind the Iron Curtain with an air-cooled V8 mounted in the rear, what do you do? Why, you hoon it up, of course! You get sideways on the highway, blast through charming little towns at maniacal speeds, get airborne going over hilltops, and then do some off-roading, all with Johnny Law on…

So what kind of wrong, wrong person would disapprove of a car with a rear-mounted 2.5-liter flathead hemi V8 engine? An air-cooled hemi V8, even! This may well be the raddest Iron Curtain car ever, and that's including the ZIS 112! We're currently engaged in frantic lobbying to somehow make Gawker buy us this Tatra…
No, we haven't given up on the Hoon of the Day thing, just being a bit more selective about which hoons make the cut (speaking of which, congrats to the Swedish Escort Service for winning our first-ever Hoon of the Month award). Here are some Czecho-hoons who definitely make the cut. They've got a winning recipe:…