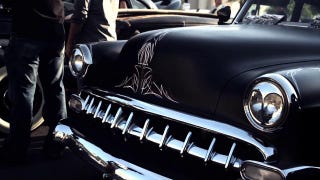 Viva Las Vegas is one of the most famous traditional hot rod and custom car shows in the world. Held in Vegas every spring, the show usually brings out some of the most interesting hot rods and customs the West Coast has to offer. Luckily filmmaker Josh Clason produced this well shot video capturing some of the…
Caught in the wilds of SEMA out behind the Las Vegas convention center, this moon buggy-type rock crawler sports a hydraulic motor in each massive wheel for maximum traction control. Looks like fun, even in a parking lot.
Ford brought a stealth version of its Police Interceptor to SEMA, sporting blacked-out lenses, a one-inch suspension drop and wider tires. Perfect for undercover work, except for, you know, the chrome-rimmed wheels and bright-red brake calipers.
Recently, the feds have had a field day seizing Skylines and other performance vehicles brought over via the gray market. Reader Erik snagged these photos of an auction-ready "export only" R33 Skyline GT-R and the paper work in Connecticut.

The folks over at Jalopy Journal dug up a real gem the other day, the Norman Timbs Buick Special . The car was built in the late forties by the racecar designer and cost the princley sum of about $10,000 to put together. The aluminum body over tube frame stretches out to 17.5′ long (same as my Lincoln) with a 117″…
The springy tuners at H&R have turned their attention to the 2007 Lincoln MKZ, giving the AWD euro-luxo fighter even more of that euro-luxo look with a monochromatic black custom grille and 3D Carbon front spoiler. The more athletic stance comes courtesy of an H&R suspension, which lowers the car 2.5 inches. The MKZ…
July 9th at the Holiday Bowl in Hayward, CA, the Vultures car club and their invitees congregated to celebrate the glory of the traditional rod and custom. We weren't able to make it this year, but if last year's show was any indication, this is one of the best car shows happening anywhere. We rank it with…
Okay, let's get this straight right off the bat: we love traditional hot rods and customs. We love Carl Perkins. We love the Blasters. And we think girls in sexy outfits "inspired" by the fashions of the '50s are really freakin' hot. But we're entirely sick of this whole rockabilly badass lifestyle. Case in point, we…