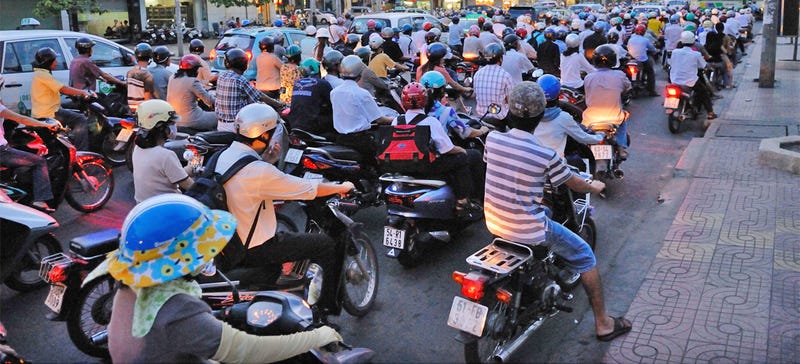 In many countries around the world, motorcycles are much more than a toy. They're regularly utilized as general transportation because many people recognize their efficiency. Not really the case here in America, though. Why do you think that is, and what could be done to change it?
Cars. They're art that we get to propel forward at 80mph, or just eat a burrito in at a stoplight. And for our last Shooting Challenge, we asked you to photograph them.
Fellow Subaru admirers, I'm drooling. Some guy thought that it would be a good idea — and it is — to drop one of Subaru's turbocharged WRX STI engines into this little ol' BRAT. With that kind of power, there won't be many Kangaroos who can outrun it.
"Guile's Theme" isn't the only thing that makes life better. So does the Super Mario Bros. theme, as evident by this video.
The "Senna" documentary has become enough of a sensation that more of its fans are following the lead of Jalopnik commenter CaughtYouLooking and paying their respects to Ayrton Senna with body ink. Here's what they're coming up with.
BMW's new book "CULTURE" recognizes the brand's commitment to both cultural pursuits and needlessly capitalizing words. It was put together by designer Stefan Sagmeister who, in a fit of creativity, made the whole thing remote-control.
There was a lot of discussion about Sonic Drive-Ins on Friday and the question was posed: why would car enthusiasts care about drive-ins? First, there is the obvious &mdash that they're restaurants where you can "drive-in" and enjoy a meal in your car. But there's so much more.


Recently unattached ourselves, we checked out Dan Lienert's list of cars for singles in between bouts of wallowing in self-pity, self-castigation and crying into our off-brand Scotch, though we suppose tears would go better with margaritas. In any event, the Forbes-published list includes is comprised solely of new…

We grew up on BMX bikes, skateboards, metal and punk rock, roughly in that order. And it pained us to see all of that stuff codified as an "extreme" lifestyle and fed back to kids who would've been too stupid to get into it on their own. When things become "extreme," they generally start to suck: case in point,…